Central Carolina Scale sells and services Digi Check Weighing Scales
Digi DS-470SS Checkweigher
Ideal for checkweighing light- to medium-weight items, the DS-470SS Series checkweigher provides easy operation and efficient performance in a variety of industrial applications. This user-friendly model features three bright fluorescent displays to show under weight, over weight and actual weight values. To ease operator recognition, the DIGI®-BARgraph shows target values in red for over, green for okay and yellow for under. In addition, an alarm can be programmed to sound when items are either within the specified range or out of range.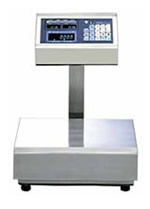 Product Features

• 100% stainless steel construction
• DI-470SS indicator features three large fluorescent displays with instant response
• Full numeric keyboard
• Set target by weight or percentage variance – LO/OK/HI
• Color DIGI®-BAR graph indicator with audible alarm for quick checkweighing
• High accuracy with internal weight resolution 1/600,000 increments
• Selectable weight units (lb, oz, g, kg)
• Numeric tare entry or pushbutton entry
• Two standard interfaces, RS-232 for computers or setpoint I/F for PLC controller
• Rugged load cell is constructed to withstand severe overloading
Options & Accessories

• Additional Digi Scale operating manual

Description & Capacities

Model Capacity Platform Size
DS-470SS 6 lb/ 3 kg 9" x 13"
DS-470SS 15 lb/ 6 kg 11" x 14"
DS-470SS 30 lb/ 15 kg 11" x 14"
DS-470SS 60 lb/ 30 kg 11" x 14"





This item is no longer available, instead please see the Rice Lake CW-90 check weigh scale